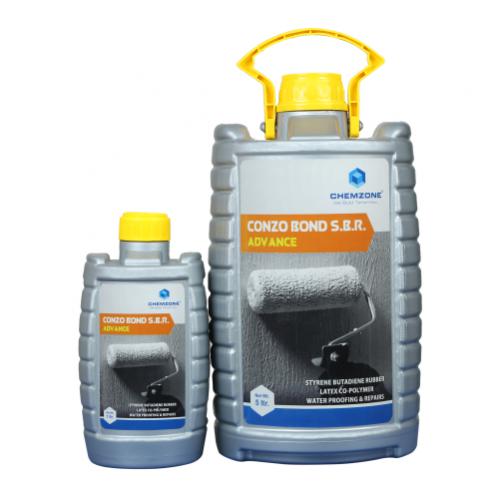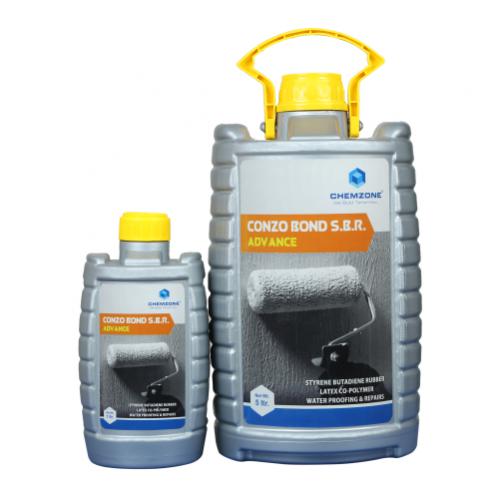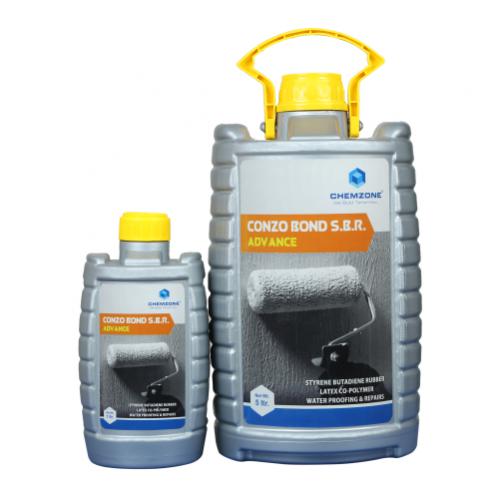 Performance and Technical data
Conzo Bond SBR Advance is based on modified Styrene-butadiene latex used for high-performance applications in waterproofing and repairs. it is used for repairs of spalled concrete such as – floors, columns, beams, chhajjas, slabs & waterproofing of toilets & bathrooms & terraces. it bonds strongly to old & new concrete & plaster.
TECHNICAL INFORMATION


PROPERTIES RESULTS
Appearance Free flowing liquid
Colour Milky white
Specific gravity @30°C. gms / ml 1.02 + 0.02
pH value 7 – 9
Chemical resistance Resists mild acids & alkalies
freeze thaw resistance Excellent
Coverage
For Bonding & waterproofing applications
1 kg of super latex will cover 70 - 80 sq. ft. area in 2 coats for a proportion mix 1 : 4 : 7

(Super Latex : Water : Cement).

PACKING
SURFACE PREPARATION
Clean the surface with wire brush or scrubber to remove hidden dirt, loose particles. Laitance, & dust. Degrease the surface by using suitable solvents
Repair the concrete spalled portion by saw cutting the extreme edges of the repair location to a depth of at least 10 mm to avoid featheredging & to provides a strong substrate
Roughen the surface by light scabbling or grit blasting
Clean the concrete surface to remove any contamination where breaking is not possible.
expose corroded rebars in the repairing area fully. Remove all loose scales & corrosion deposits & immediately clean the surface.
Reduces drying & aging shrinkage cracks
It prevents cracking by improving flexural strength
It is a multipurpose & economical product, easy to use
Improves the hardness & prevents dust generation
Bonds strongly to concrete, masonry, stone work, plasters, steel, asphalt & mostof the building materials.
Improves abrasion resistance of cement mix.
Improvers erosion resistance & prevents corrosion.
Prevents leakage & dampness.
Enhances strength of a repair mortar & provides durability.
About Us
We are world class – international standard wide range construction chemicals manufacturer, consultant, supplier, advisor, and turnkey project undertaker with speciality construction chemical application in civil construction work.
Stay in Touch
Survey No. 123, Plot No.7, Road - D , GIDC Estate, Visnagar-384315.