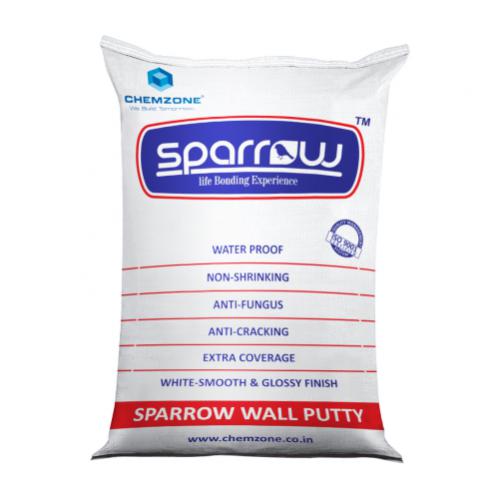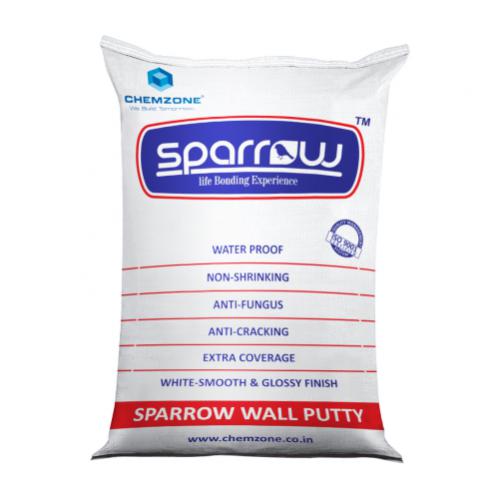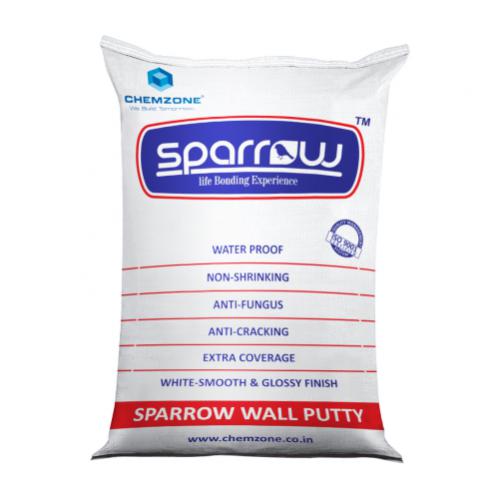 Performance and Technical data
SPARROW WALL PUTTY This wall putty is a unique formulation of white cement and high performance chemicals and polymers which can be applied on damp as well as dry surfaces.
Packaging : 40 kg, 20 kg

Coverage :

SPARROW Wall Putty covers approx. 16 to 20 sq. ft. per kg for 2 coats, maintaining a maximum thickness of 1.5 mm on smooth plaster surface.

Color :

White

Certification
Substrate
The Wall Surface to be applied with Wall Putty should be Smooth Cement Plaster (Cement: Sand preferably in the ratio of 1:6). Surface free from Structural Crack & having been cured for 28 days.. The surface should be free from dirt, oil, grease and other loosely adhered foreign materials.
Surface Preparation:
The Cement Plaster Surface should be cured for 28 days to achieve proper strength before application of Wall Putty
The Surface should not have any Structural cracks. Any Non Structural Cracks to be treated first with appropriated crack filler before applying putty
Ensure the surface is cleaned from all the dust, grease & lose materials with the help of emery stone/putty blade/ wire brush together with clean water
Pre wet the surface before applying Wall Putty
Important to ensure that cement plaster surface should be pre wet to such an extent that it should not absorb water from putty coat
Mixing
Mix SPARROW Wall Putty with around 35% of clean/potable water to make a paste of workable consistency . The mixing has to be done till a uniform paste is prepared. Once the paste is prepared it is left for 5 to 10 minutes before application to ensure complete reactions of admixtures present in putty. Mix only that much quantity of putty paste which can be used in 2 hours time
Application:
Clean & Pre wet the plaster surface before applying SPARROW Putty
Make a SPARROW Putty paste which can be used in 2 hours time
Apply the first coat of putty on pre wet surface from bottom to upward direction with putty blade
After drying of first coat of putty clean the surface with smooth dry cloth followed by wet cloth
Apply second coat of putty after about 3.0 hrs of first coat
Allow the surface to dry for minimum of 12 hours
The Putty to be applied in two coats at a maximum thickness of 1.5 mm
Before paint application clean the putty surface for all the loosely adhered material and use very fine water resistant emery paper ( preferably more than 500 Nos) only if there are marks of putty blade on the surface
During application of putty the surface should be protected from direct sunlight till the two coats of putty are dried
Areas of Application
Designed for interior and exterior surfaces
To make uneven surfaces to even and smooth surfaces
Suitable Substrates
Protects paint from moisture
Curing is not required
White cement based Wall Putty
White, smooth & glossy finish
Does not allow paint to flake
Ideal for interior & exterior walls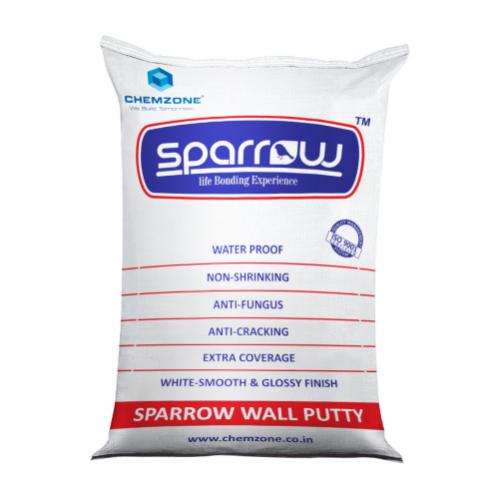 About Us
We are world class – international standard wide range construction chemicals manufacturer, consultant, supplier, advisor, and turnkey project undertaker with speciality construction chemical application in civil construction work.
Stay in Touch
Survey No. 123, Plot No.7, Road - D , GIDC Estate, Visnagar-384315.