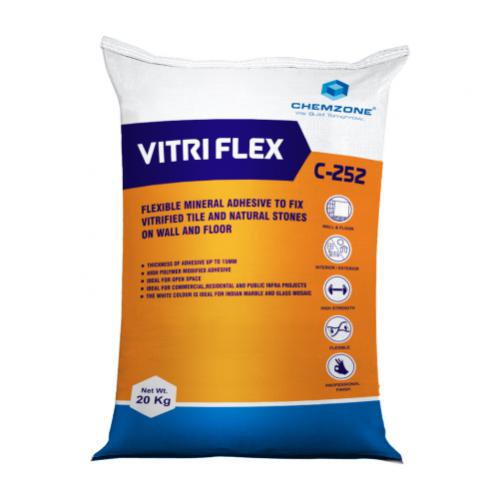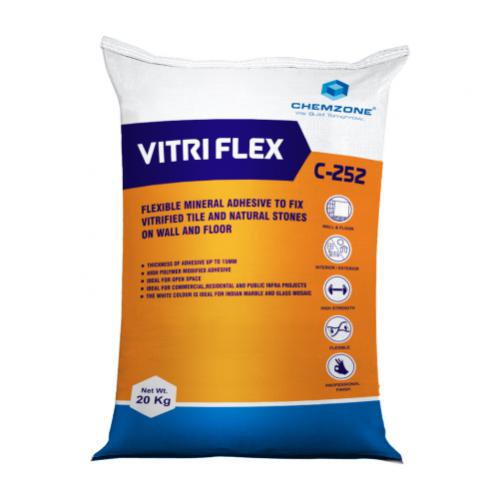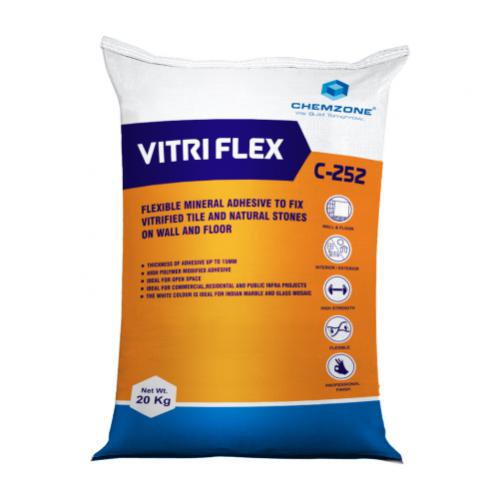 Performance and Technical data
VITRIFLEX C-252 is a multipurpose polymer modified powder offering utility including applications for floors And wall in interior and exterior area it is cementations thin set powder to be mixed only with water to install. All type of medium and large size tiles & stone on variety of substrates using thin set method of installation.

Designed for specially for interior and exterior floor & wall installation of all type of ceramic vitrified, glass Mosaic tiles, precast terrazzo and natural stones.
Packaging : 20 kg Bags
Coverage : Approx. 55-60 sq.ft. per 20 kg bag.
Color :

Grey and White

Certification
Meets the following standards as per

IS 15477 Type-1
EN 12004/ISO 13007:C2TE
Substrate
The surface to be covered with tile/ stone shall be sound and confirm to good design, rigid, clean and free of dirt, oil, grease, curing compounds, form release agents or loose plaster and paint. For economy the surfaces should be level and true with in: Walls – 3mm in 2.5m Floors – 1.5mm in 1.0m
Surface Preparation:
If a plaster/leveling mortar bed is applied, ensure that it is cured for at least 7 days to achieve proper strength before application of tile adhesive for installation of tile
Ensure the substrate is clean and free from impurities like dust, dirt, debris, oil, grease, curing agents, loose plaster etc
Dampen the wall before application of thin set adhesive
Clean the back of tile for any dust or coating
Mixing
The products can be mixed by hand or slow speed electric drill mixer (less than 300 rpm). Pour potable clean water in a clean container and then add the powder VITRIFLEX C-252 and mix until the mixture becomes creamy and plastic. Do not over mix. Leave the mix to slake for 5-10 min and remix before use. Mix only sufficient quantity of adhesive for immediate need.
Proportion
Approximately 1 bag of VITRIFLEX C-252 with 5-6 ltrs of water. Adjust quantity of liquid to obtain proper consistency.
Installation
Wet the surface and remove the excess water before applying the adhesive. Ensure the area is shaded from sunlight. The adhesive shall be applied with the flat side of the trowel using a scraping motion to work the material into good contact with the surface to be covered.
Additional mortar is then applied with the notched edge of the trowel.
When installing large tiles, spread adhesive onto back of tile in addition to trowelling material over surface to be tiled. Select proper type of notched trowel.
a) Thin Tiles upto size 300 X 300 mm (1'X1'), use a square notched trowel of size 6mm X 6mm to provide a total thickness of 3mm
b) Large Porcelain Tiles upto 450 X 450 mm with ribs, use a square notched trowel of size 6mm X 6mm and back butter the tiles with the same adhesive to a thickness of 1-1.5mm to provide a total thickness of 4.5mm
c) Large Porcelain Tiles upto 600 X 600 mm (2'X2') with ribs, use a square notched trowel of size 6mm X 9mm and back butter the tiles with the same adhesive to a thickness of 1-1.5mm to provide a total thickness of 6mm
The most important standard to keep in mind is to insure that the piece of tile is completely bedded in the mortar or adhesive with 100% coverage.
Rear face of tiles (especially Porcelain tiles) should be cleaned with damp sponge to clean all the dust. Do not saturate in water.
Excess mortar on adhesive shall be cleaned from the surface of the stone with wet cloth or sponge while the mortar is fresh.
Areas of Application
Designed specially for interior & exterior floor & wall installations of all types of ceramic tile, vitreous tile, semi-vitireous tile, glass mosaic tiles, precast terrazzo and natural stones over concrete and a variety of substrates.
Suitable Substrates
Concrete
Cement Mortar Beds
Ceramic Tile and Stone Concrete Masonry
Cement Plaster
Brick Masonry
Cement Terrazzo
Gypsum Wall Board
**Interior use only when mixed with CONZOBOND SBR Super Flexible Latex Admix
Multi purpose polymer modified thin-set adhesive
Suitable for mosaic, and various tiles & stones
Suitable for various substrates
Extended open time
Smooth & Creamy
Ideal for fixing small and medium size tiles on floor & wall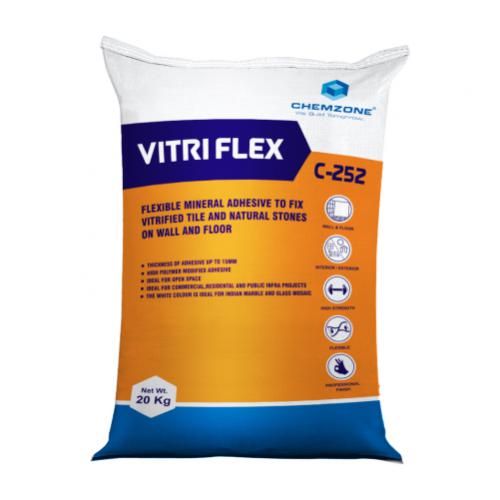 About Us
We are world class – international standard wide range construction chemicals manufacturer, consultant, supplier, advisor, and turnkey project undertaker with speciality construction chemical application in civil construction work.
Stay in Touch
Survey No. 123, Plot No.7, Road - D , GIDC Estate, Visnagar-384315.