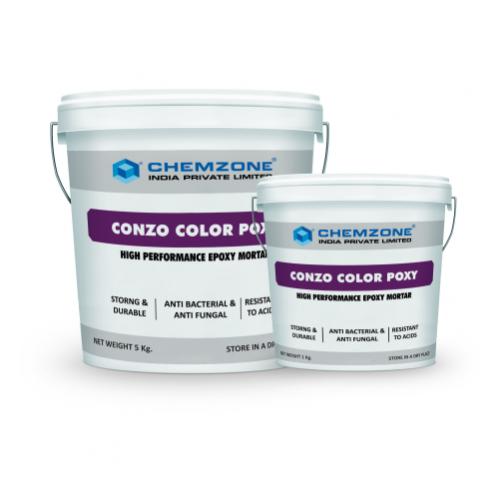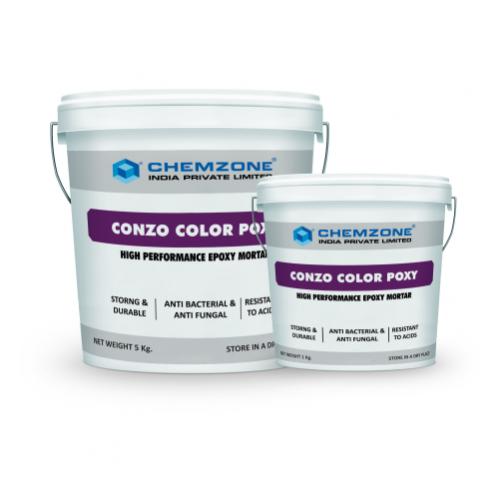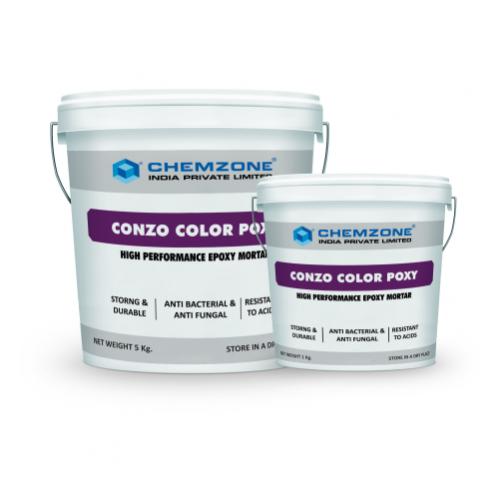 Performance and Technical data
Conzo color poxy is colorfast chemical resistant 100% solid epoxy grout suitable for ceramic tiles, vitrified tiles, marble, and stone, especially in stain prone areas such as kitchens and washrooms, residential and commercial installations. Packaging :Net weight 1/5th unit - 1 kg & 1 unit - 5 kg.
Coverage Color : Available in a range of more than 33 colours
Certification
Meets the following standards as per

ANSI: A 118.3
EN 13888: RG2
Coverage:( approximate sq. ft area per one kg )

| | | | | | | | |
| --- | --- | --- | --- | --- | --- | --- | --- |
| Joint width | 6*6 | 6*12 | 4*8 | 8*8 | 8*12 | 10*10 | 12*12 |
| 2mm | 90 | 130 | 85 | 130 | 152 | 156 | 186 |
| 3mm | 60 | 87 | 56 | 87 | 103 | 106 | 123 |
| 4mm | 46 | 63 | 45 | 65 | 77 | 80 | 94 |
| 5mm | 31 | 43 | 29 | 44 | 52 | 54 | 64 |



Surface Preparation:
Before starting to grout, remove debris in grout joints and lightly sponge the tile surface to remove dust and dirt.
Do not clean tiles with acid cleaners. In case acid cleaners were used to clean the tiles, ensure to wash the area with plenty of water before commencing grouting.
Mixing
Empty entire contents of Conzo color poxy Grout Part "A" and Part "B" container into a clean mixing pail.
Mix with a margin trowel or a slow speed drill mixer until liquids are completely blended. Add at least ¾ of Conzo color poxy Tile joint Part "C" Filler Powder and mix to a uniform consistency.
Add the remaining filler powder and mix to achieve a stiff mix to work into the joints.
Immediately pour entire contents of bucket onto working area. Use a plastic sheet as a drop cloth. Use standard epoxy grouting techniques to work with Conzo color poxy tile joints.
Conzo color poxy Tile joint can also be applied with a caulking gun. Be sure all grout joints are packed full.
Remove as much excess material as possible before initial cleaning with grout float. Do not leave excess grout on the face of tiles.
Cleaning
Remove excess grout from the face of the tiles with the edge of the grout float. Hold the float at a 90° angle and pull it diagonally across the joints and tile to avoid pulling out the material.
Initial Cleaning
After 30-45 min of the application of the grout scrub the surface of the tile & joint with clean water and scrubber provided to remove any excess grout. Then take a clean thick white towel and drag across the tile to remove any residue.
Final Cleaning
Within 24 hours do a second cleaning with normal soap detergent to remove any haze from the tile.
Areas of Application
Kitchens, bathrooms, swimming pools, fountains, water bodies, hospitals, operation theatres, sterilization rooms, restaurants, cafeterias, light industrial applications, and high traffic areas.
Suitable Substrates
Strong and durable
100% Stainfree
Anti-bacterial and anti-fungal
Chemical and temperature resistant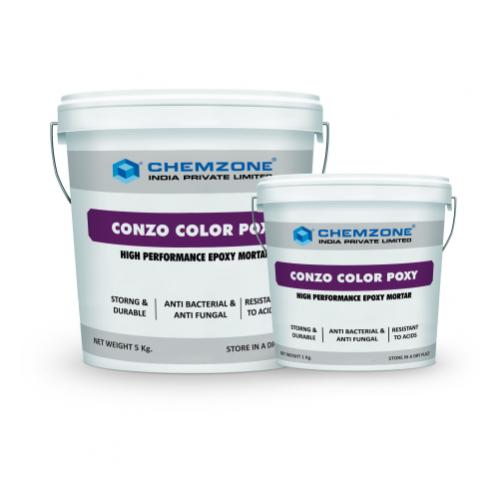 About Us
We are world class – international standard wide range construction chemicals manufacturer, consultant, supplier, advisor, and turnkey project undertaker with speciality construction chemical application in civil construction work.
Stay in Touch
Survey No. 123, Plot No.7, Road - D , GIDC Estate, Visnagar-384315.